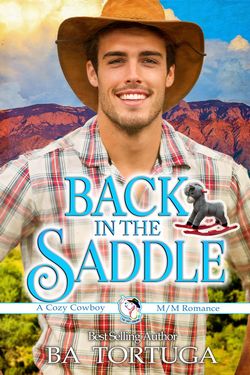 Buy on KU
When David Garcia's family suffers a loss, he comes back to New Mexico to help, leaving his life in Austin behind. He knows he has to make the best of it, so he uses his skills as a teacher to set up a daycare business on his parents' ranch and start helping out local friends and family who need a babysitter now and then. It's the perfect job for someone who also needs to run the small family ranch and make money to keep it afloat.
When rodeo cowboy Wiley Marquart decides to start a family, he sure doesn't expect the barrel racer he made a deal with to up and leave him high and dry in New Mexico with both of his girls and nothing but a check once a month. He loves his kids, but starting a ranch from the ground up is tough, and he needs someone to watch the girls when he has to work the back forty or deliver a trained horse. So when he meets David, the relief if immediate. And it doesn't hurt that after a false start or two, he likes the guy.
Between navigating family pitfalls, work disasters, and two ranches, David and Wiley start to forge a friendship, and then a lot more. But can they find a way to mesh their lives without dropping any of the balls they're juggling, or are they destined for disaster?