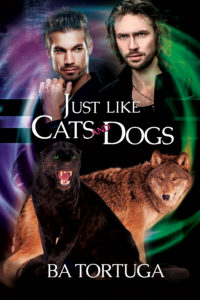 Just Like Cats and Dogs has been re-released through Dreamspinner Press.  It has a 10K bridge story between Just Like Cats and Dogs and the upcoming sequel What the Cat Dragged In.
2nd Edition
A Sanctuary Novel
Can cats and dogs ever get along, let alone fall in love?
Sam knows you can never go home again. As an orphaned feline shifter raised by wolves, being an outcast is nothing new to him. But the pack is still his family, and when one of them passes away, Sam returns to the New Mexico desert to say good-bye.
Gus is a loner who rarely returns to his pack, but as fate would have it, Sam is there when he chooses to visit. The history between Gus and Sam is tumultuous, to say the least, but when Gus gets an eyeful of the grown-up and gorgeous version of his childhood bully, he can't control his reaction. And he isn't alone.
The attraction is powerful, but so are their differences. And with trouble brewing in the pack and danger surrounding them, Sam and Gus might not have the opportunity to seek common ground.
This action-packed shifter novel is the ultimate opposites attract and enemies-to-lovers romance, and it includes a bonus novella, In the Dog House.
First Edition by Torquere Press, 2011.