ETA: Due to the closure of All Romance E-Books, we've pushed back the release of these books until January 9, and will have retail sites for listing very soon.
Club Raven, a shared universe with Julia Talbot and Kiernan Kelly, opens on January 1 2017.
Set in 1870s Baltimore, the Club Raven series is an alternate universe with a historical and magical bent.
My title in the opening collection is Calling his Bluff.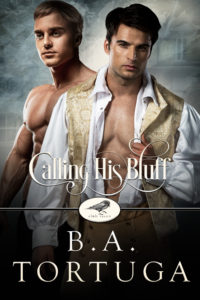 Patrick's loss is Remy's gain.
A Club Raven Novel
After his twin dies in battle, it's Patrick Daniels' duty to marry his brother's fiancée. Too bad he can't make himself do it, and in his distress, he manifests a psychic talent that's stronger than the tornadoes in his native East Texas. Then a mysterious man from a place called Club Raven steps in and sweeps Patrick off to the booming East Coast city of Baltimore.
Club Raven veteran Remy Blanchard sees Patrick and knows, even though Patrick is very ill, that this is the challenge he's been waiting for. He nurses Patrick back to health, and begins to teach Patrick to control his talent. His methods might be unconventional, and Patrick might be new to the kinds of sexual games Remy knows best, but the two of them find something in each other that might be just as magical as the gentleman's club where they meet.
Much love,
BA