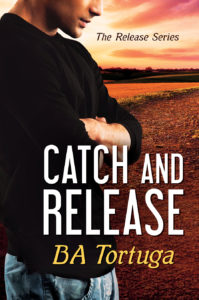 Catch and Release, the third in the Release series, will be available December 19, 2016.
Dakota Landry just got out of prison after twelve years. If anyone can understand how that feels, it's his new friend, Sage, who is determined to help him get used to life on the outside—and believes Dakota didn't commit the crime he was in for.
Jayden Wilson is a former prosecutor who agrees to look into the case at the request of Sage's lover, Adam. He sets out to prove Dakota is just another "innocent" ex-con, but once they meet, Jayden is more and more convinced Dakota just didn't do what everyone thinks he did.
Trouble follows Dakota, and nothing is easy as he struggles to figure out how to live, now that he has choices. And Jayden isn't sure how Dakota, or any lover for that matter, fits into his life. Their path from friendship to romance is a slow one, but Dakota begins to believe he deserves a chance at life, and Jayden falls a little more for Dakota every day. Now they just need to tell each other how they feel.
Buy link: https://www.dreamspinnerpress.com/books/catch-and-release-by-ba-tortuga-7903-b