BA's newest release for her solo work is Cowboy Haven! Her #1 Amazon Bestseller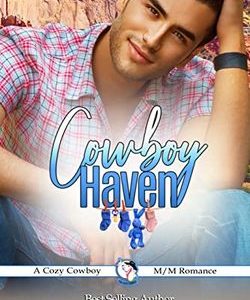 Click here to get it on Kindle or KU!
When Heath Barron leaves Texas for Northern New Mexico, he thinks he's getting a luxury house rental for a steal, escaping from his ex, and finding a home for his newborn triplets. What he finds is a broken down trailer, a freezing winter, and the feeling that he's at rock bottom in his life. Again.
Former rodeo champ Kolt Cordova has a good life. He has a ton of family, good land for cattle, and if his joints hurt when it's cold, then so be it. But when he finds Heath living in an abandoned trailer on the acreage next to his, he knows his life is about to change. He just has no clue how much.
Heath feels like Kolt is offering him everything he's ever wanted when he invites Kolt to come and stay, and Heath gives Kolt a sense of belonging, but as they get to know and maybe love each other, danger from Heath's past rears its head to try to harm them all. Can they find a way to face their fears, and this threat, together?
This book is a gay cowboy romance and has an ex-rodeo cowboy, infant triplets. a nosy family, and a loving freelance writer with a past.