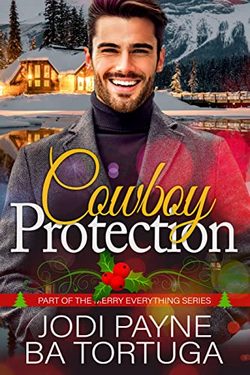 Buy on KU
Maverick "Mackey" Keyes keeps the rodeo cowboys safe on his watch and he knows how to make his bullfighting team walk the line. He might be starting to feel his years, but he's a pro, and he's not afraid of anything that might happen on the arena floor.
Sidney Scott knows how to go with the flow, so when his dream job passes him by, he grabs the chance to work the bull riding circuit as a TV producer. He's going to do the job right, traveling with the show, even if he hears some rumbling from the riders.
Mackey and Sid butt heads more than once, but when it really counts, they manage to get on the same page. When Mackey is injured, Sid steps up to help, and things take a far more personal turn. They might have been able to ignore the growing attraction between them at work, but a long road trip over the Christmas holiday and time away from the other cowboys lets them find something together that neither of them expect, but both of them need.
Cowboy Protection is an opposites attract, rodeo romance featuring a bullfighter and a corporate suit, with a side of holiday magic.